The Irish House has an Oktoberfest special menu, and a few of us went to try this at their RMZ Eco World outlet. The décor was just coming about, but I quite enjoy the woody interiors of the pub, consistent in theme across their various branches. The new menu had a very German theme – simple and pairs well with the beers. For the Fest, all International Pints are available at 325 plus taxes, while KF Premium is at 95 plus taxes. There is a good line up of imported beers – Hoegaarden, Stella, Edelweiss, Sol and many more.
Our meal saw some good dishes. Twisted Pretzels – home-made crusty pretzels with a sea salt, honey and sesame glaze, served with a honey mustard dip is a good start to the meal. Baked Kartofell-Fan – a German classic was very nice, we actually got a repeat of this comfort dish. Potato fan baked with mixed herbs, served over a home-made glazed crusty pretzel, with an apple beer sauce, dill cucumber salad, pickled beetroot and beer infused sour cream.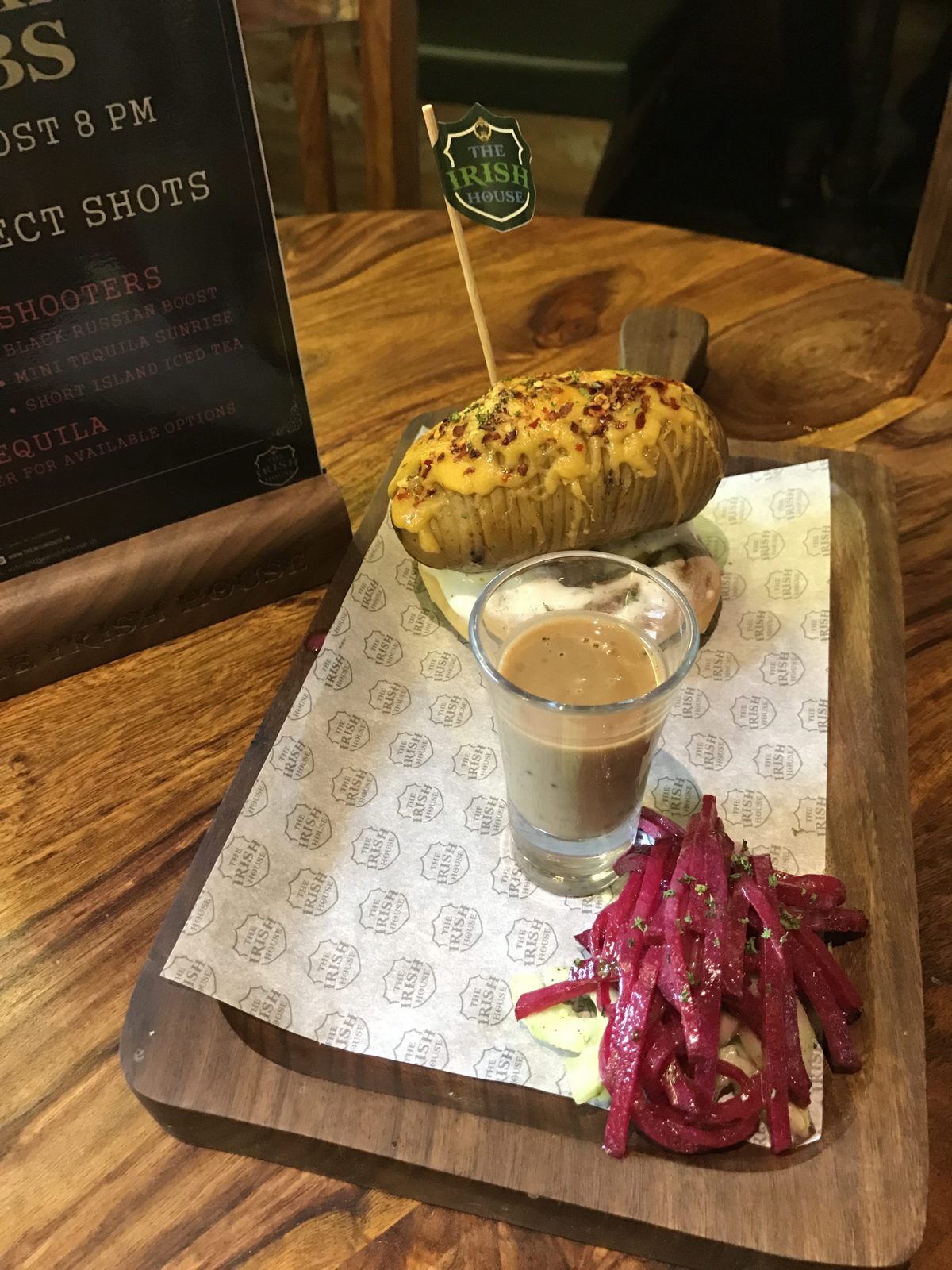 Baked Kartofell-Fan
– another classic German-style homemade soft noodles tossed with spicy eggplant and served with a candied orange salad that gave it quite the zest. My favorite has to be Beer-y Sausages & Crusty Pretzel – grilled pork sausages and pepperoni with some beer-infused onion sauce, German-style potatoes, green peas and home-made glazed crusty pretzel. Nice and meaty, I could do this for lunch every day. This is also available with chicken sausages, minus the pepperoni. The Apple Strudel – served warm, and glazed with honey, topped with vanilla ice cream is a dessert that works quite well with the menu, not too heavy yet just delicious.
Summary
The Irish House has the evening scenes sorted with some crazy drinking games like Beer Shotgun, Cup Stack, Chugathon, Trivia, Tongue Twisters and more, and live performances as well. The celebrations are on until 20th September, in both Whitefield and Sarjapur outlets. Beer drinkers – don't miss this out!
Please follow and like us:
Comments
comments