Bangalore has evolved to be the hub for various kind of events, whether it's a Hackathon, Comicon or Oktoberfest. Coming up this weekend is a unique 2 day food fete that will feature some of the city's well known restaurants, cafes and dessert houses. Of course there's more! Standup comedy, DJs, Jazz Artist and Afro beats performers would make sure that the spirits are high! Speaking of keeping high spirits, there is beer being served as well, courtesy Kingfisher. Bangalore Food Fete would go on to be an annual event, focused on bringing the food lovers and foodies in a closer connect with restauranteurs, partners, chefs and their food. This would be a rare opportunity to experience grub from a host of food joints across the city, in a single place, with fun entertainment.
Venue: VKC Pride, Near New Horizon College of Engineering, Marathalli
I spoke to the Marketing & Communication Rep of the Bangalore Food Fete Team, to get a background perspective to the event. Here's an excerpt from our conversation.
---
SKG: How did this idea of hosting a fete come up, and how did it evolve?
FFT: Even though food plays such a huge part in all our cultures and there is are restaurants opening on every street almost every single day, a Food Fete is still a futuristic concept in India. Skylight Production (the organizer) wanted to create a platform where restauranteurs can come network with the experts in the industry along with consumers. We noticed how even though some restaurants have really good food and a brilliant concept, they often go unnoticed and don't really get the limelight they deserve. Therefore, we wanted to create a community of food lovers who can come share their love for food all at one place. That is what led to the inception of Bangalore Food Fete.
SKG: What are the kinds of restaurants that are hosting stalls here?
FFT: It's a mix of the smallest and biggest restaurants in Bangalore – Motive was to bring together top pubs, restaurants, cafes, dessert outlets and food trucks
SKG: What should people look forward to on the days of the fete, aside from binge eating?
FFT: We'll also be hosting a food eating competition (Burgers & Ice-cream). There's no festival without entertainment… Thus, we have lined up staged events featuring aspiring artists & performers.
SKG: Would the restaurants/food outlets be bringing a special menu for the event, or some of their regular best sellers?
FFT: It's completely up to the restaurants to decide what they want to serve. Some are serving their bestsellers and a few are using the Fete to introduce new items.
---
Priced at Rs.150 for an entry, tickets are available on BookMyShow. The Bangalore Food Fete starts at 11 am until 11pm on both days, and an impressive artist line up awaits the audience.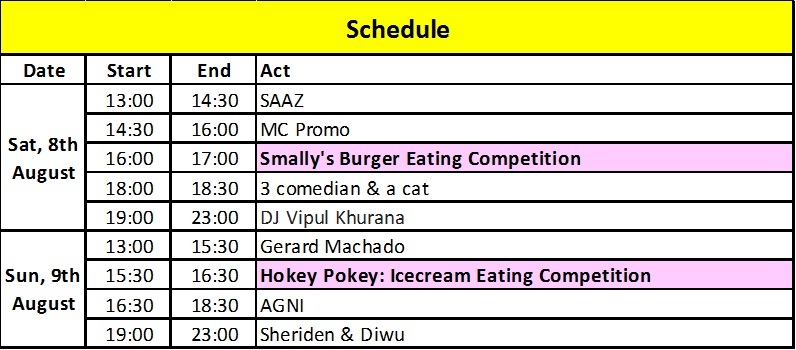 For more information, please visit the official website: http://www.bangalorefoodfete.com/
Please follow and like us:
Comments
comments