Last month, I finally got a weekend away from the hustle bustle of the city. Our destination was chosen – a place I've been meaning to go for a long time – Kabini. Lately lot of our spontaneous trips were getting shelved due to logistical challenges. But not this time. Picked a place to stay, and booked an Ola Outstation for the trip. I had anticipated a pretty long trip, and we started at about 8 in the morning. The driver partner assigned to us was a happy and enterprising young chap named Nandish. With a nice breakfast stop at Kamat Lokaruchi, and some breaks along the way to stretch and take photos – we reached Kabini around 2 pm. Our abode for the next 2 days – The Peepal Tree, Kabini.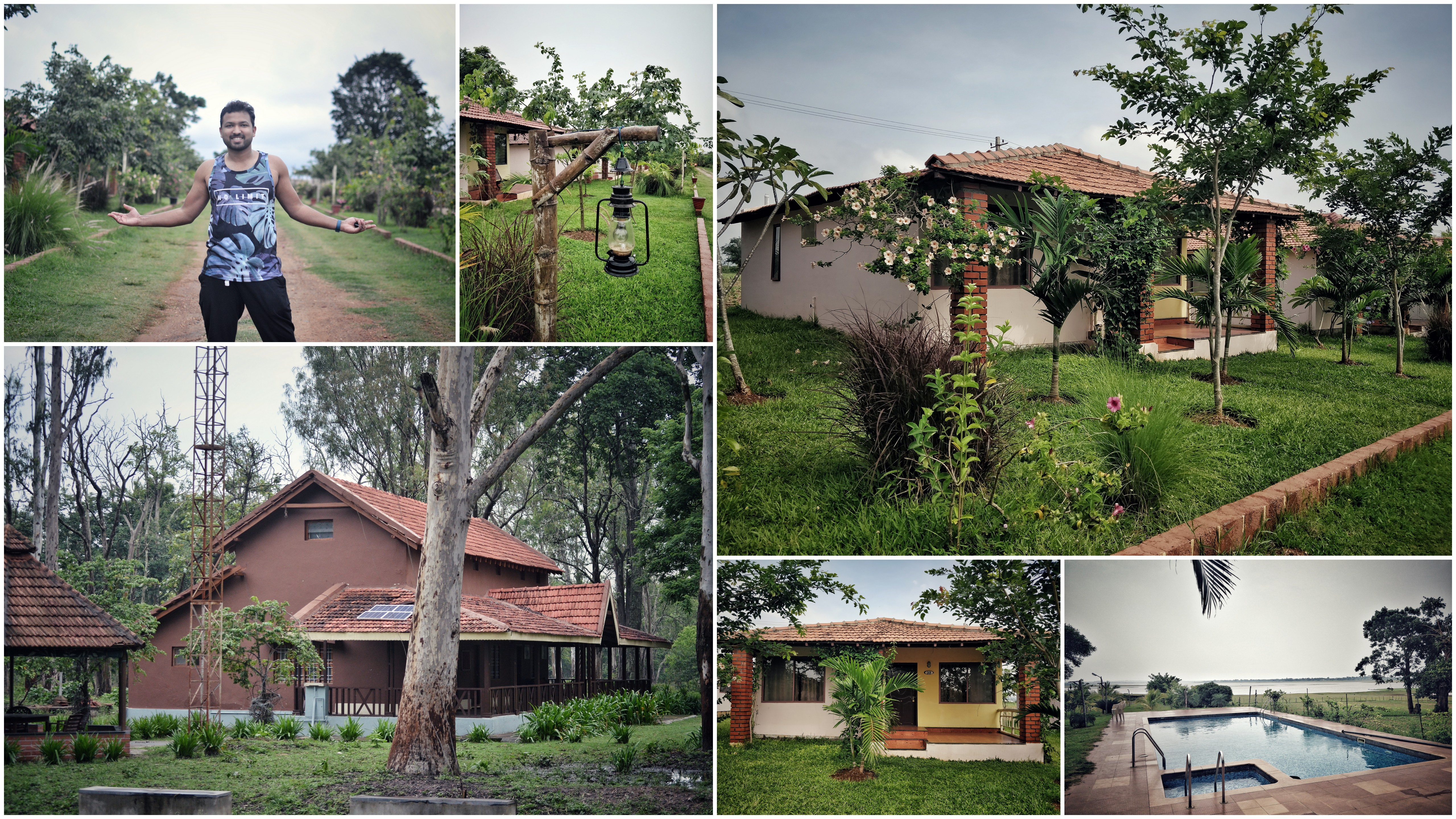 So, the favorable time to go to Kabini for safaris and exploring the Nagarhole National Park is pretty much before the rainy season, and after the rainy season. The region receives heavy rainfall, and that turns the forests into lush verdant green. The day we reached we got some downpour, so we munched on pakoras and watched the rains, quite calming. The horizon was faraway, tinged with the hues of dusk. Neat like a painting that's not marred by concrete structures. We turned in early, next morning we had a date in the wild!
And the next day we were off to an early start – at 4:30am. We headed to Antharasanthe, a village that has an entrance into the Nagarhole National Park. There are other entrances as well, enquire for the nearest one. The convenience of having the Ola Outstation cab with us was significant. Not having to figure out the route early morning, and directly going in to the gate without giving a second thought to parking and logistics. Not to mention safety in a place that's unknown, and in wee hours of the morning. Tickets need to be booked in prior, reach venue by 6am and bus starts at 6:30am. Various resorts also facilitate safari on jeeps, we were in a bus. The safari started on time, on a chilly morning and we went embarked on our journey into the forest.
Abundance of dears, wild boars, peacocks, various other birds were spotted during the safari in intervals. The big cats weren't to be seen though, and people in smaller vehicles were parked on sides of the track – waiting for a glimpse. As we commenced our return, we suddenly saw a fawn bounding towards us, shrieking in terror. And then we spotted the wild dogs, a pack of eight chasing and surrounding this deer. Our bus retreated so as not to interrupt the hunt, while putting us in a vantage point for viewing this, if we chose to.  The hunting dogs chased the deer into a pond, where they managed to completely surround it. And after toying with the prey as it frantically swam from one corner of the lake to another, one of the dogs jumped in the pond, chased the deer, caught it and brought it to shore as we could hear its forlorn cries. On the shore, it took all of three minutes for the deer to be torn from limb to limb and then devoured.
This brought us to the end of our safari, most of us still shocked from what we witnessed. We headed back to The Peepal Tree, fully intending to rest for the rest of the day. We could have done a few more safaris, in an attempt to spot the coveted black panther, but the aim of this trip was also do some unwinding. And that's what we did the rest of that day – cycled by the backwaters of Kabini river, swam in the pool, took a short boat ride out and played some really bad games of Uno!
The next day, we lazily checked out, and started our journey home. We took a few detours – a futile attempt to see a Marigold farm near Mysore, and unplanned stops like Fishland for a super late lunch. These almost three days had rejuvenated us! The weather was perfect, and the place was disconnected enough to have a peaceful and quiet time away from the distraction of connectivity.
The Last Word
Kabini didn't disappoint. It's simple and gorgeous, albeit I do believe very overpriced. If you're patient and have the time, you will spot some beautiful wild cats. And the rustic feel of the place isn't made up. Ola Outstation was also a reason we could plan and execute a trip in such short notice. Our Ola driver partner was reliable and ensured our comfort and safety at all times. The ease of having an app that was just getting you to work, to also expand into outstation trips, making commute easy and dependable was a much needed convenience to the transport eco-system. So just key in your destination and dates to choose from a variety of car categories and pricing options, and hit go!
Please follow and like us:
Comments
comments