Yes, this post is coming very late. Udaipur was the last stop on our trip in Rajasthan. We traveled from Jodhpur by road, and visited the gorgeous Ranakpur Jain Temple, and then reached Udaipur. The city is known for its lakes and palaces, and even in pictures has an undeniable romance. The weather was perfect, and it was just around Diwali. It was still afternoon when we entered the city, and loved it already.
There are a lot of things to see in Udaipur, but it is also the place we really wanted to just relax and unwind. Hence the first bit was a complete tourist story. We reached, went for a stroll at Sahelion Ki Bari – a beautiful place with water fountains all around, lovely for an afternoon stroll. Then we rushed to Bagore Ki Haveli to check out the dance and music performance. We had heard mixed reviews, but I am so glad we went for it anyway. The show tickets are like 60 rupees per person for Indians, and a little extra for using cameras and phones for shooting the performances. The actual show covers the various culture, music and dance styles from Rajasthan – depicted beautifully and realistically. It's amazing to sit in the crowd and watch this – I strongly recommend it. Takes place between 7pm – 8pm.
We woke up early morning to go to the Fatehsagar Lake –  it's perfect because there wasn't any crowd. There is a long line of food stalls there, and that's where we had our second breakfast for the day – a super cheesy pav bhaji, maggi and chocolate shake. The speed boat rides started soon after – priced at Rs.220 per person for Indians. Awesome fun!
Next stop was the Vintage Car Museum. The classic car and carriages collection is quite good here, and the curator took us around to see the cars, give us the history of its ownership and usage and any movie appearance it made. The main car on display was the Rolls Royce from Octopussy, though some of the other machines were quite the beauties too. It was a hot day, so we went to the restaurant next door – Garden Hotel – for a nice meal and chilled beer. Was splendid.
Then we proceeded to the City Palace – a large palace complex, showing the history and opulence of the Mewar dynasty. Built atop a hill, and overlooking the Lake Pichola, the City Palace has a great view of some of the other beautiful monuments of Udaipur – including Lake Palace, Jag Mandir, Monsoon Palace and more. Mewar was the seat of the Rajput power, and saw many battles between Mughals and the Rajputs. Unlike Marwar which had ultimately submitted under the Mughals, Mewar remained unconquered, through repeated attempts. And while people are lovely and kind here, they are also fiercely proud of their culture and values – truly rajputana. Well that was a history lesson!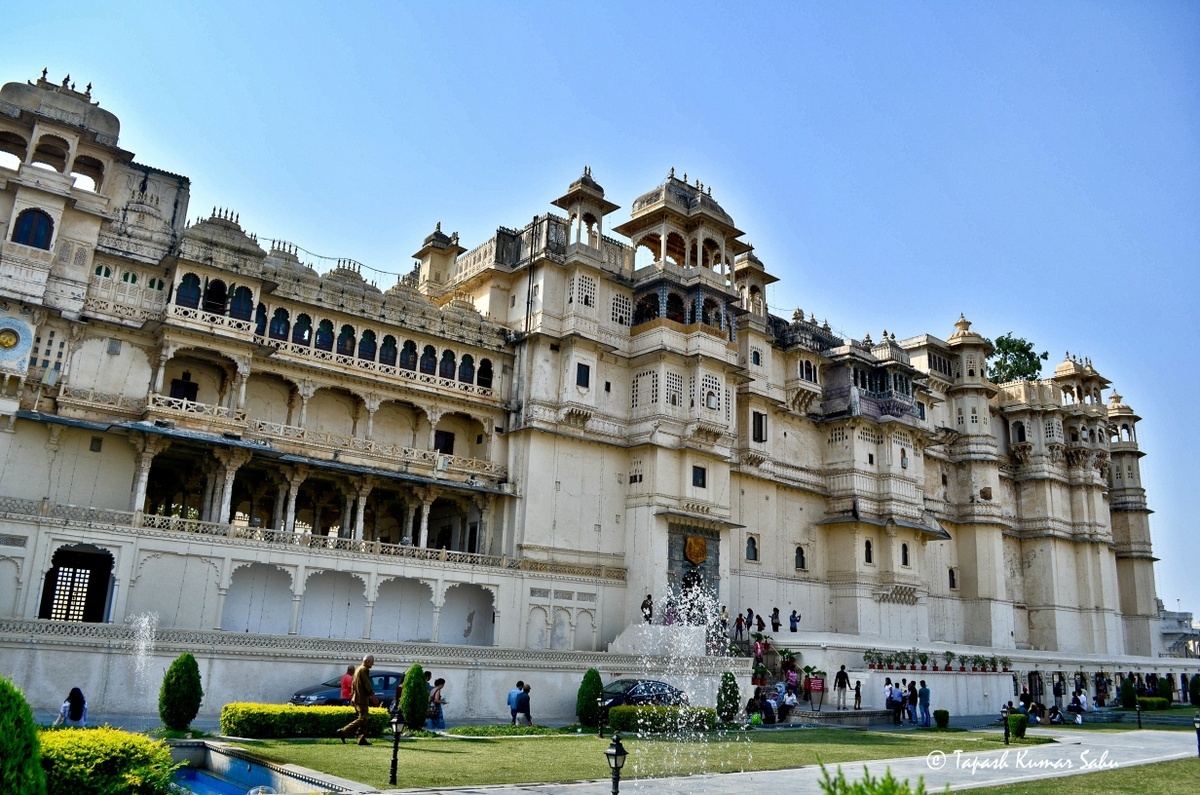 Tip: The palace is quite big, reserve about 3-4 hours for the tour.
Then we went up the hill on the ropeway to the Karni Mata Temple. Quite peaceful and a beautiful view from up there. We returned around sunset.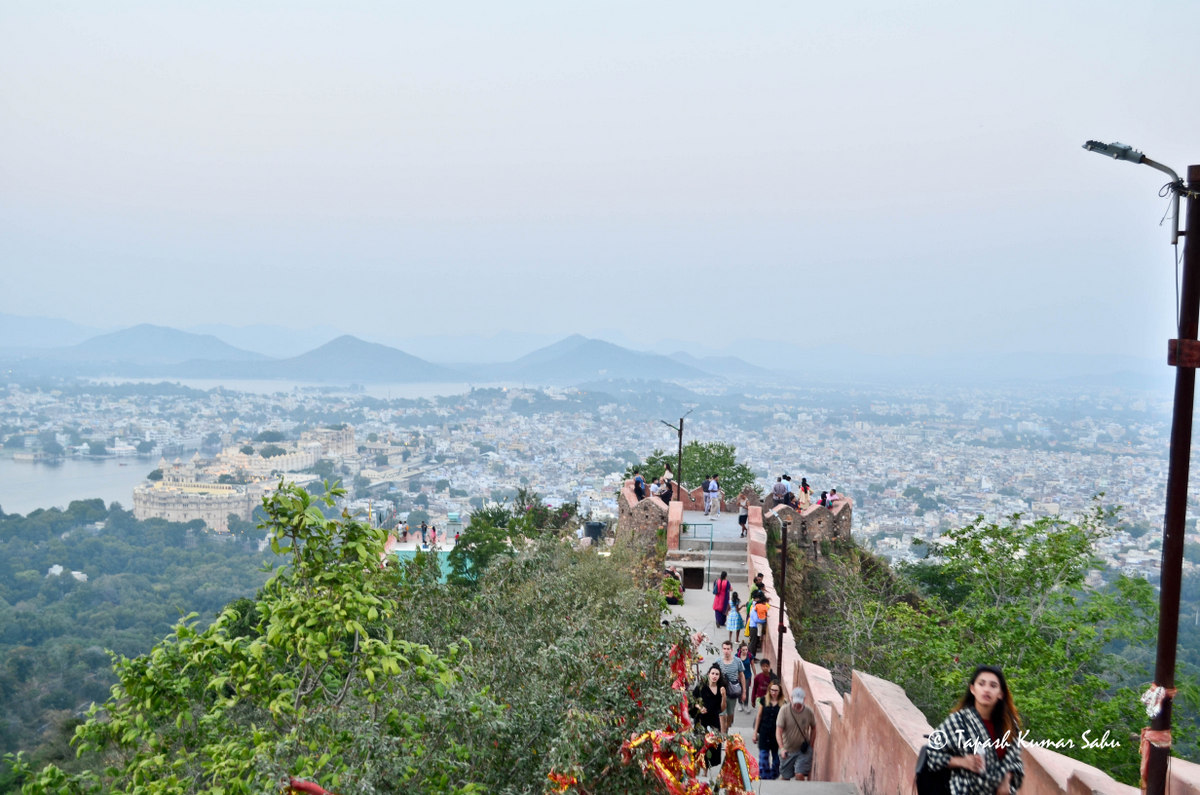 Our lunch next day was in the gorgeous Udaivilas. Pinky was kind enough to set that up, and until we reached inside, we didn't know how amazing this was. Thanks to her and Mr. Ankush – I can now only gush about our experience there. To say the property was splendid & palatial, is putting it mildly. Larger than life chandeliers and lighting, a private access to Lake Pichola, beautiful rooms, gorgeous views – I could just go on. Our lunch was at The Surya Mahal, the daytime dining space. We tried some of their thalis, and regional specialty including the Laal Maas. The food was spectacular.
The Udaivilas and Trident Udaipur are adjoining properties. And we rode the golf cart to the Trident for a quick show around and a drink. The Trident had a lot of greenery all around, and that made it look even more expansive. They have a few in-house restaurants and a gorgeous bar in the property.
As a lot of our friends are now planning their trip to Rajasthan, I hope this blog post comes at an opportune time. Hit me with any questions. We also ate a LOT in Udaipur – best food ever. But that deserves a separate post. It does! For now enjoy our itinerary of 3 days Udaipur. See ya all soon!
Please follow and like us:
Comments
comments