We love reinventing things in a great way, and that's definitely the style of the season. And Loft 38 is being quite the style guru when it comes to setting trends. Most 'Bar and Restaurants' are less of restaurant, and more of good watering holes. The good looking ones even turn into fun clubs sometimes. Lofts 38 launched their new menu a few months back, and have been actively looking at good food to be their focus. A couple of weeks back, when I went there for lunch with a few other friends, it turned out to be a very interesting afternoon of great food, and fun conversations with the the Corporate Chef – Vibhuti Bane and Events Manager – Samhita Heddur.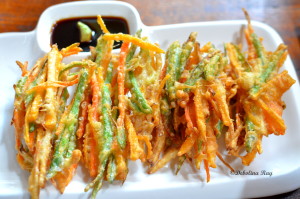 The lunch started with some drinks on a warm afternoon, and we traditionally broke bread with soup and salad. The Loft Caesar was refreshing and not soggy with too much dressing. The veg salad with palm hearts and orange was a fantastic dish. Heart of palm, not used often in restaurants here, is actually native to Central and South America, and is very tasty even by itself. The combination of pomegranate and orange with this, in a leafy blend was fantastic.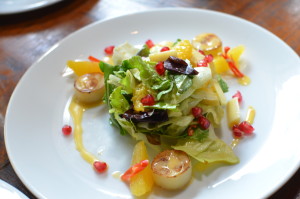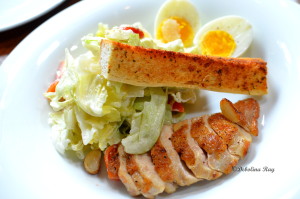 Kakiage was another hit of that afternoon. A kind of tempura mixed in batter before deep frying; this is like a Japanese version of a pakoda. Various vegetables making this really colorful dish made a good starter. Watermelon and feta bites, an interesting and surprising combination, perfect for a hot summer afternoon was also one of the hit ones during that lunch.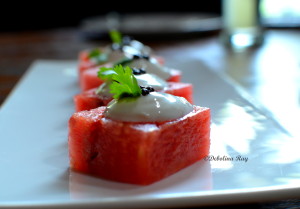 Slightly deviating from the Chefs menu, Nitin and I decided to share one of the specials from the Jack Daniel's menu. Meat burger served with potato wedges is a relatively smaller burger, but extremely filling. The corn bread was soft and fresh and complimented the jerk beef perfectly.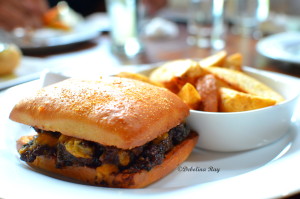 The non vegetarian platter was a luxurious offering of peri peri basa, chicken wings, Kerala beef chilli, shammi kabab, Naga chilli and more! Delicious, the naga chilli and basa being my favorites. The sushi platter was a happy surprise. Served with a generous dollop of wasabi, and variety of sushi like futo maki, maguro tuna maki and more. But the bright red tuna nigiri was both tasty and colorful, deliciously made.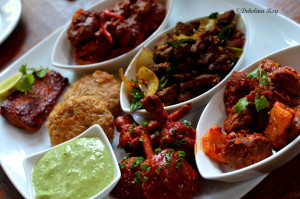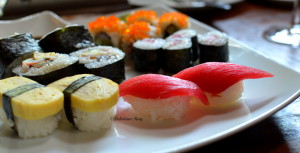 Curried European vegetables and mozzarella saw a blend of curry powder with vegetables on a soft dough pizza was another show stealer. While authentic pizzas are definitely great, this one with it's desi twist brought a whole new level to fusion food.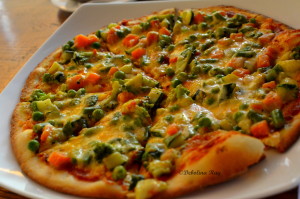 Our main choices were asian. So there was kadai veg with lachha parantha and red thai curry. The Kadai veg was very tasty, fresh and the parantha were soft and hot. The combination was really good, and we got extra paranthas to keep us going!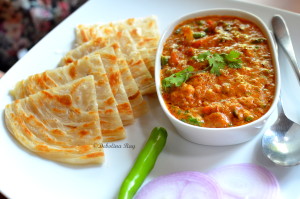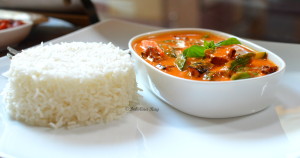 Finally, we reached the dessert. Of course there was more food on the way like sliders, and soups and chat, but phew! I really need to finish this post! The signature cheesecake, orange and white chocolate brulee and the prune and almond tart made up the grand finale. The brulee was sweet and slightly tangy with the citric extracts, and possibly not my favorite here, while the almond tart was fresh and warm, and smelt of the nuts and meltingly tender prunes definitely came close to the best. My favorite was the cheese cake, and I know the search for the best cheese cake has been on for a while, but this baked beauty was amazingly soft with the right amount of sweetness and flavor. I am definitely putting this on the list.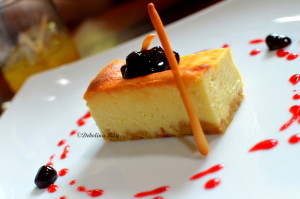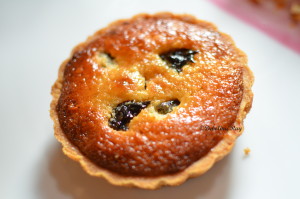 The chef meanwhile, for the entire afternoon, kept us engaged with food stories and recipes, which I wish I had taken notes on! He and his team have managed to turn menu into a gastronomic journey of world food, with each dish made authentic and tasty. They have also launched a quickie lunch menu for business meetings or short lunches, being fast and priced economically. I no longer think of Loft 38 as just a party hop. The food served here is definitely one of the best bar food in the city, with expansive vegetarian and meat choices!
Please follow and like us:
Comments
comments