This was almost a blog I didn't write. Most people that visit Thailand do a day trip to the Phi Phi islands, but I had it on good authority that these are the prettiest places to visit – thanks Sunay and Anamica! Part of the Krabi Province, there are several islands that form a part of this, including the prominent Ko Phi Phi Don and Ko Phi Phi Le. And as always I started researching on where to stay – that's my Step 1 usually. The main island is a party hub and has a lot of resorts around. But we wanted some quiet and peace, so it would have to be one of the bays that had a beach shack/hotel/resort.
Now let me explain the dynamics. On the phi phi islands there are many beautiful resorts, and once you land in Phi Phi, you'd take one of the Long Tail Boats and head out to your place of stay. These boats are like shuttle services, and cost about 100-200 Bahts (250 – 470 INR) for one-way trip per person. Their timings are usually coordinated with boats coming in from Phuket or Krabi.
So, after much deliberation, we picked the Phi Phi Relax Beach Resort. It is 20 minutes by Long Tail Speed boat from the Phi Phi Tonsai Pier. It's a serene property of bungalows on a pristine Andaman Sea beach. We opted for one Beach Front Bungalow – and another Garden Bungalow. The bungalows had large rooms and bathrooms. The Beach Bungalow was like premium row seats to the most glorious view – white sandy beach and crystal-clear turquoise waters. The resort rents out snorkeling gear at 50 Baht, and you're set to hit the sea.
The hotel had a restaurant with a great menu and really good food. It wasn't too expensive either for island standards. Breakfast was included in the package I booked on MakeMyTrip. Otherwise a meal for 2 with beer would be around 600 Baht (~1500 INR). The resort had options for day tours on various islands of Ko Phi Phi. And we picked one such tour that started early morning and hopped across 5-6 islands. The number of islands depends on the weather and the sea. We were lucky, and had the most amazing time – spotting marine life, swimming with sharks, looking at corals and playing on beaches.
What we did
We were pretty much lazing around Phi Phi Islands, but there's some great party scenes on the main island. But commuting between the main pier and the bays is usually through boats, and the last boat is usually in the evening at 6pm. So if you want to party, crash overnight there!
1. Snorkeling – The water at Phi Phi is beautiful, pristine – and there's gorgeous marine life. The water is quite still during the day, so it's perfect.
2. Island hopping – While Phi Phi is glorious, there are other amazing islands around, and totally worth checking out. Viking Caves, Monkey Island, Phi Phi Le National Park and various others are gorgeous. The beautiful water, white sands beaches and serenity – that's the main thing in this area!
3. Hiking – Phi Phi as well as a few other islands have some amazing hike trails up to the hills. Some are easy to do, and the top offers absolutely breathtaking views of the island and the water.
4. Ultimate unwinding – Phi Phi gets a lot of tourists, but individual bays usually have only the respective resort residents. So really nice, quiet and peaceful like no other place. I would just go back to do nothing.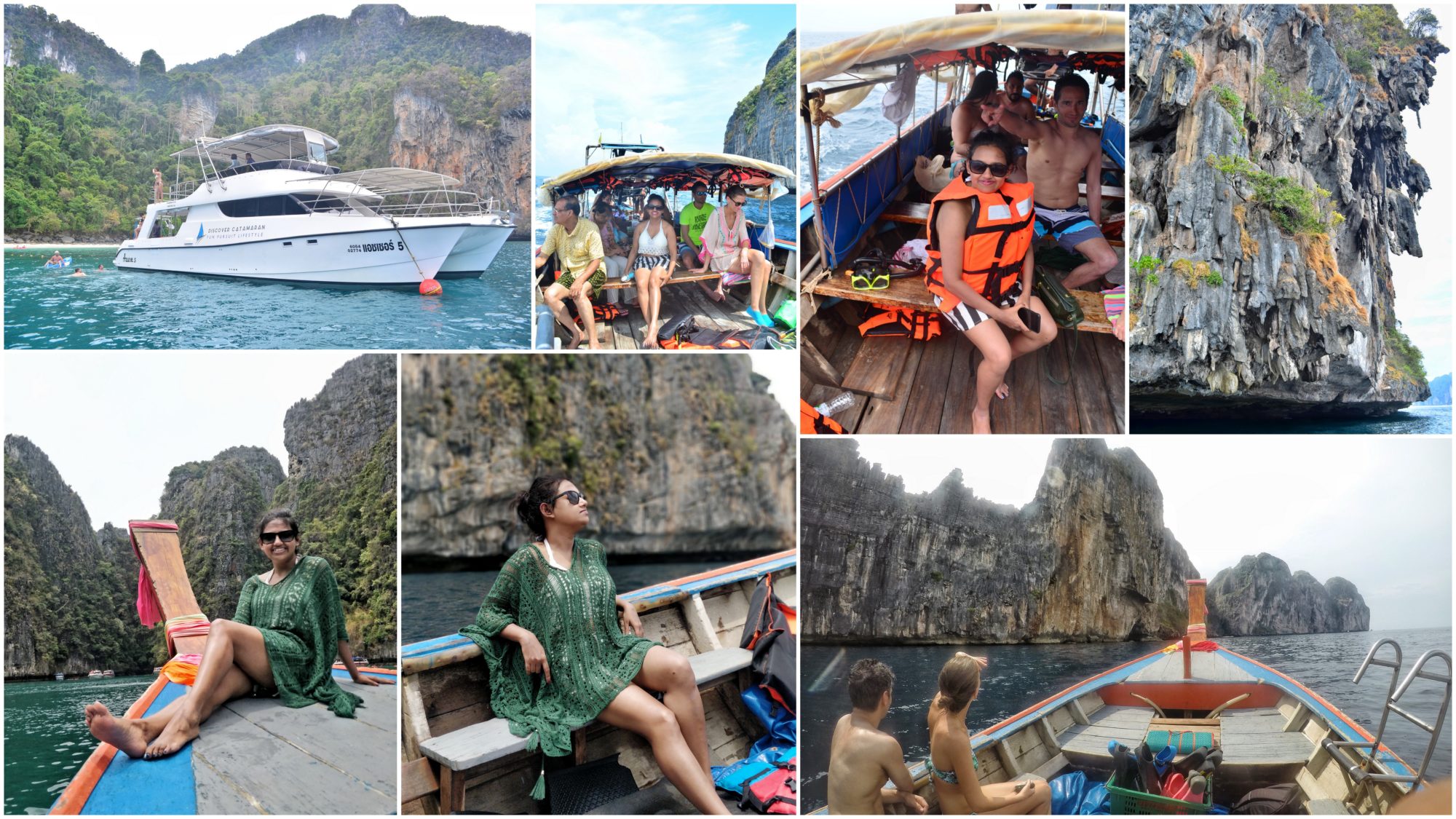 In Summary
Phi Phi was definitely the highlight of our Thailand trip. From the planning and expense perspective, a stay in the bay resorts is slightly steep on the wallet – starting at about from 8,000 INR per night. Near the Tonsei Pier there are more economical options, and that's where the main party scene is. So decide what you'd like to do, and get the most out of your trip to Phi Phi.
Please follow and like us:
Comments
comments