We were recently invited to the Jackfruit365 Meet up at Grand Mercure Hotel, in Koramangala, Bangalore. The meet up was about raising awareness for jackfruit, as well as discussing how Jackfruit can be used for consumption. And to highlight its amazing health and economical benefits. Currently Jackfruits are used during the season as a fruit or as a vegetable ingredient for a several traditional Indian dishes. During off season, it is used as fried or dried chips, or as a canned fruit. However almost 80% of the Jackfruits in India are going waste as there is no organized market for Jackfruit based products and people are reluctant to use JackFruit for various reasons – because they are seasonal, messy to prepare and the strong aroma. But this breakfast event was such a surprise, because of the kind of dishes and the styles of preparations. Held at 12th Main restaurant in the hotel, Chef Sridhar Sigatapu did a brilliant job of curating a delicious breakfast spread for us with core ingredient as Jackfruit!
During the meet up we met Mr James Joseph, the Founder of Jackfruit356 and a former director of Microsoft. It definitely takes a different mettle in a person to start a venture based on passion – for a fruit, the goal being to popularize this versatile yet underrated natural product.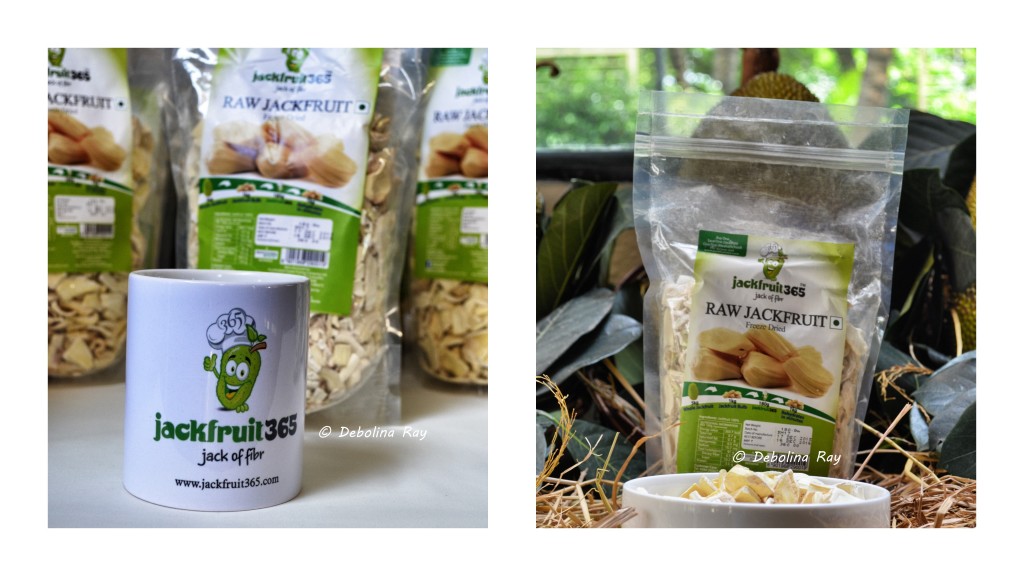 Jackfruit365 is a Freeze Dried Jackfruit product. Easy to cook in a reseal pack, easy storage for 365 days. Freeze drying is a process used widely to preserve fruits and vegetables during off season by removing water content by first freezing and then converting ice to vapour. This process reduces the weight of the fruit or vegetable and can be preserved in room temperature in an air tight packing.
Health Benefits Of Jackfruit
Strengthens the immune system
Prevents anaemia
Reduces the risk of heart disease
Supports treatment of blood clotting
Always keeps the thyroid healthy
Regulates blood sugar level
Prevents osteoporosis
Aids in vision
Regulates blood pressure
Prevents intestinal diseases
Source: 10 Health Benefits of Jackfruit
As it was a breakfast meet up and after such an informative talk, we were all geared to eat. Jackfruit is not one of my favorites but I was intrigued with the way Jackfruit fibers infused in each and every dish. There was neither Jackfruit atypical taste nor its smell, which really worked for me.  And every dish tasted really good and unique.
The assortment of dishes spanned both breakfast dishes as well as appetizers, to show an adequate variation of recipes. The way jackfruit was used in these was unique and curious at the same time. In some of the dishes, the flavor of jackfruit was evident, especially the smoothie, the jack fruit seed curry etc, while in others the taste was so sublime, that it blended in effortlessly with the spices and other ingredients. And the work of the Chef and his team here is commendable. They had about 2 weeks to develop these recipes, and ensure that there's enough variation in the dishes as well as in taste.
Please do visit Jackfruit365's website for purchase and for varieties of recipes. They are also available on Amazon.in. Its healthy and nutritious. So do give a try!!!
Please follow and like us:
Comments
comments