Tangerine is a multi-cuisine restaurant in the Davanam Sarovar Hotel, in Madivala, Koramangala. Located on the 4th floor, the hotel is a complete transformation from the chaos of the city and its traffic that converges near Madivala and Silk Board, being conveniently located in the midst of the buzz. When I was invited to taste the Japanese menu at Tangerine, it sounded intriguing to say the least. On meeting with Mr.Imtiyaz Ahmad Beigh, Head Sales and Marketing, the very interesting story behind this menu came to light. The menu is called Fukusuke, which is a good luck doll in Japan. For the last few years, Davanam Sarovar has catered to long staying Japanese guests, and being a premiere hospitality brand, they decided to make things as good as home for their visitors. And that's how they came to cater for their unique clientele. The restaurant also has standard buffet for breakfast, lunch and dinner, which usually comprises of Indian food. The plush interior, and comfortable seating is an instant welcome to the restaurant. Various sizes of groups can be entertained here, and tables are spaced out well,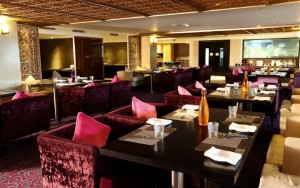 Our chef Vijay Sharma, had decided our tasting menu in advance, such a relief! We started off with two kinds of sushis, kappi maki and tempura rolls. The prawn was quite soft and the cucumber and rice wrap held quite delightfully. The tempura batter with stuffing was delicious. An upside is that their kitchen is open to customizing dishes, and even make vegetarian variant of a dish.
In the next course, we got our salad, which was boiled spinach with dried fish flakes. The taste was a little too bland in the spinach. Now something I was prepared for was that not all the food would suit our Indian palate. And this was probably one of those dishes. The presentation however was exquisite; the chef explained that they were doing a blend of French style food. For the mains we were served tori no teriyaki, which was teriyaki chicken served on a bed of fragrant rice. This is a typical and popular dish, one that we are familiar with as well. The chunks of chicken were flavorful and well tempered. One of my favorite dishes of the evening is what came next, stir fry vegetables with chawanmushi. Chawanmushi is an egg custard preparation, typically ingested as a soup in Japan. It didn't look like egg at all, more like a pudding, and tasted very different and was textured like jelly. The stir fry was a contrast that went perfectly with this. It was brilliant.
Our dessert was chocolate with baby ginger, a dessert even Martha Stewart swears by! Cute little heart shaped chocolates arranged neatly on a plate was such a elevating end to our meal. That's not all, as all Japanese swear by wasabi, we got our ice cream with wasabi on a bed of frozen ice. Quite a sweet and tangy combination, worked very well. The trick with wasabi is moderation. Too much could give you a heady feeling. Our hosts of course, kept us well aware of all of these amidst sharing interesting anecdotes.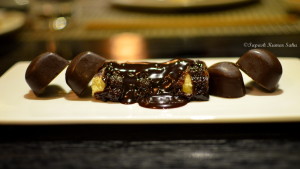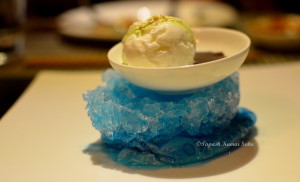 Our chef for the evening Vijay Kumar is introducing various dishes and concepts into the Tangerine menu, making this a truly multi cuisine restaurant!
Tangerine, Davanam Sarovar Portico Suites
Address: Opp Madiwala Police station, Hosur Main Road, Bengaluru, Karnataka 560068
Phone: 9900070477
For more information on Davanam Sarovar, check out the website:
http://www.sarovarhotels.com/bangalore-hotels/davanam-sarovar-portico-suites
Please follow and like us:
Comments
comments