A gorgeous venue, right by a pool side, in the Grand Mercure Hotel, Koramangala, By the Blue is the perfect venue for a Sunday brunch this summer, for food, cocktails and a dip in the pool! Away from the light bustle, and tucked away neatly in 12th Main is this casual, yet posh restaurant. Split on two levels, the upper storey serving the actual buffet, and the bar and live counters all in the pool side area. And there's great beach side music, giving it a very Mediterranean feel. A bunch of us were there for the TownTrendz foodie meetup for Sunday Brunch.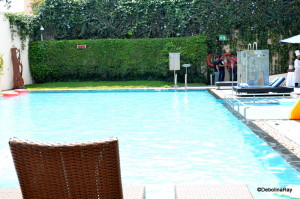 The afternoons having become really hot, the bartenders had to innovate on fruity cocktails, from Watermelon Mojito, minty Lemonades, to Litchie mixers and Guava in Vodka mixed with Tobasco to spice it up. The place also had a tender coconut vendor with his cycle, available. Some of us got the "daab" (as it is called in Bengali), and got some vodka mixed into it as well. Innovations I say! The live counters were quite interesting as well, offering a host of sea food and fishes, freshly procured from Chennai , and as the Executive Chef Sridhar Sigatapu says "This is as fresh as it gets!". These scaled beauties are served either pan fried or grilled. There was also a host of vegetarian offerings like Baby Corn, Paneer, Broccoli and other vegetables served from the counters. There was also a chat stall, for dahi puri, pani puri and even yummy Pav Bhaji. Would be perfect with Keema Pav!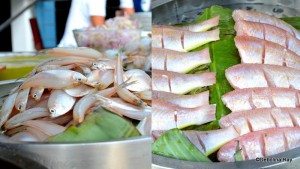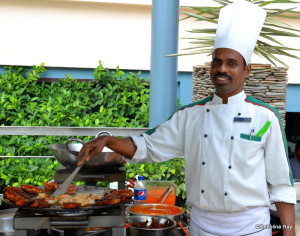 The main course was pretty well defined too having a wide variety of options. Among the memorable were the chicken dum biriyani, beef stroganaff, potato rissole – probably a little under done, a Raita counter catering to the true Indian taste buds. The dessert selection wasn't undermined – coconut cake, banana tart, orange pudding, fruit cakes, cheese cakes and some Indian desserts brought up the rear wagon of the brunch. And to top it all, they would serve pastas on the table, upon orders, which were quite good, saucy or dry as requested.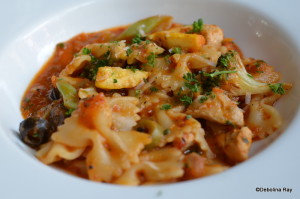 The USP of the place is its fantastic ambiance. The live fish food counters are a happy stimulant for the sea food lovers. The service however, on a crowded day like Sunday, was quite slow. possibly the only downside. Brunches are priced at 1119 + tax without alcohol. For more information on the restaurant and venue, please visit:
http://www.grandmercurebangalore.com/
Please follow and like us:
Comments
comments