Fatty Bao is dishing out her New Summer Menu Collection showcasing everything that is cool and colorful! The new promotional menu has a vibrant food menu, paired with some cooling cocktails to beat this surprising summer heat. A few of us were invited for a leisurely lunch, and we found The Fatty Bao all set up with the theme of butterflies, lanterns and beautiful origami décor – a perfect ambiance to the meal that followed.
Our meal started with a host of summer cocktails – my choice was the Mary Blue. The gin, lime juice, blue curacao was just the perfect chilled concoction, that looked stunning and was lovely to sip on. Most of my fellow diners chose the Sunny Margarita – another stunner featuring mango and passion fruit with tequila. The Litchi Fizz was a stronger mix of rum, litchi and tonic lime – prettily served with whole drenched litchis perched on the drink. A fantastic start!
The food started trickling in slowly amidst introductions and conversations. The Thai Summer Salad was a bright and colorful dish, with yellow watermelon and radish, served in a bright blue plate – bringing together the delicious freshness of the salad. The Cold Noodle Salad was another sweet dish with Asian glass noodles – soaked in beet root hence the gorgeous color – and with pickled veggies. The rice paper rolls had vegetable fillings, and was quite light and nice.
I was eagerly waiting for some of the non-vegetarian fare, and the caterpillar sushi was brought out! This was delicious sushi with poached shrimps mounted on top and artistically adorned with spicy mayo and edible charcoal. Fantastic! The stir fried broccoli with glazed bacon followed – quite an interesting and rare combination, very well executed, tasted wonderful – the bacon lending the right bit of crispy munch to the drenched vegetable. A dish we loved thoroughly was the Korean fried chicken – made to crunchy perfection and deliciously spicy. The mains had a couple of choices for us – Chicken Hainanese with Broth and Vegetables, and Malacca Pompfret.
The dessert course came a while later – and we were already full from the several rounds we have shared. Yet, the delectable Mango Pannacotta served with Vanilla Ice Cream enticed us to gobble it up quite well. The pannacotta was lovely and supple – very light. The next dessert – and a must MUST try was the Frozen Rainbow Cake – quite a popular dessert from South East Asia – Light sponge cake with various layers of mango, avocado, raspberry and more for the vibrant colors it brought out. The spun sugar added to this dish – making this the most stunning dish in presentation and taste!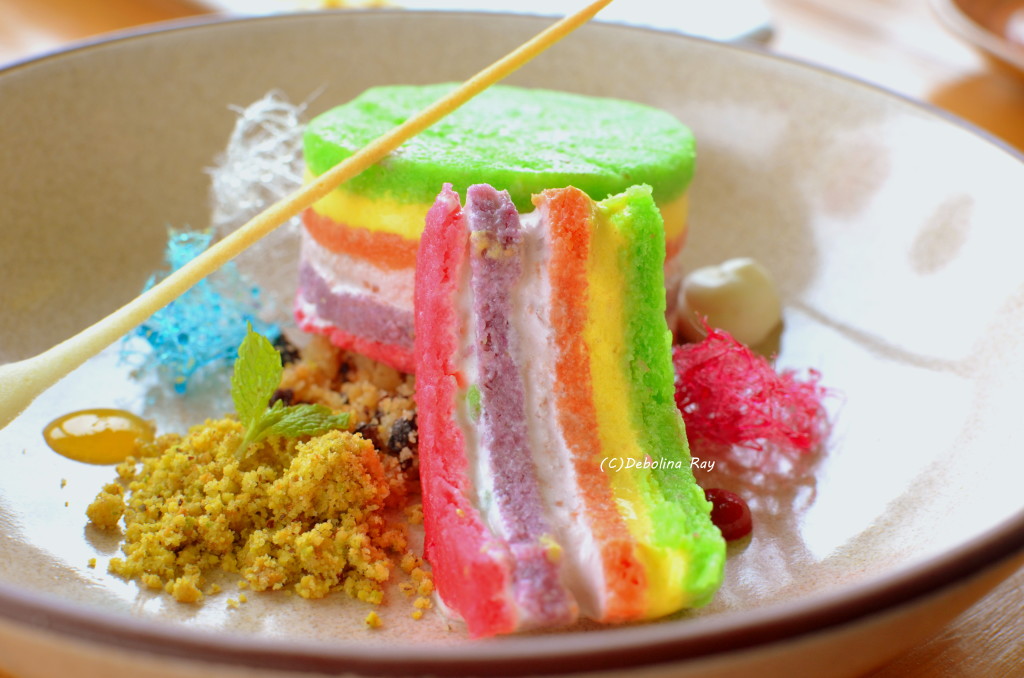 Fatty Bao's Ode to Summer runs until 29th May, 2016 – for lunch and dinner, and gives everyone yet another reason to go back to experience the amazing inspired Asian cuisine. I would highly recommend a reservation, and don't miss the Rainbow Cake!
Please follow and like us:
Comments
comments