The Concept
---
Who doesn't want a simplified solution to parties made easy? Well, here comes Atmosfire folks! The idea behind Atmosfire is not just food. It is about the experience of hosting the perfect party, with barbeque, have people to set up a conceptual theme, or a handpicked menu, have the crew come and serve a delicious and delectable meal to your guests. Choices from over 100 grilled dishes and main course options are available to ensure there's everyone's choice perfectly tailored and met! They bring in their own chefs, bartenders, and even entertainers! And this concept is brought in by Barbeque Nation.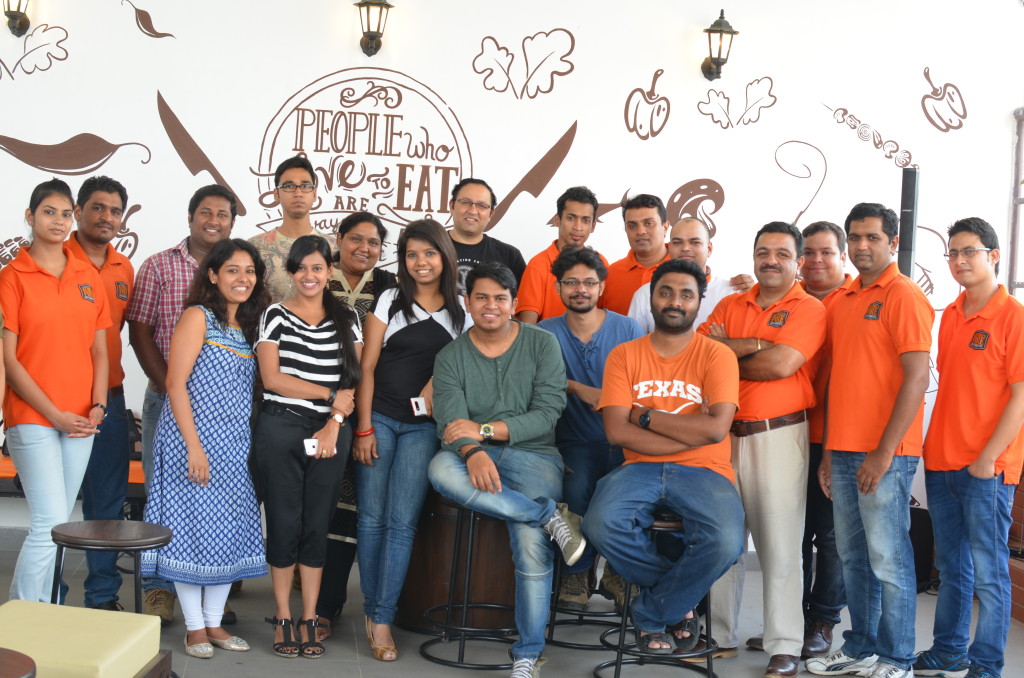 The Locations
---
While the party makers of Atmosfire mainly work at your home or venue of your choice, there is also what they call "Celebration Pits" in Indiranagar and Electronic City, which can also be the venue for a party. These pits can accommodate from 25 – 150 people, so it can be a full blown celebratory event with great food and drinks. Their own locations do not serve alcohol.
The Grub
---
A couple of weeks back, some friends and I were invited for a tasting session at Atmosfire. The venue is located in Electronic City, and was an enclosed rooftop dining area, where the in house chefs were making vegetarian and non-vegetarian barbeques, bartenders mixing up summer cocktails and good music to keep us company. The food was very good, fresh off the grill, served to us. There was a good variety of fish, sea food, chicken, lamb and quail for non-vegetarians, while our veggie counterparts were having potatoes, baby corn, pine-apple (delicious!), soy bean and paneer. The service was prompt, while the preparations were different, and tasty. Some highlights of what we were served are the Caribbean Jerk Chicken, Peri Peri Drumstick, Tandoori Quail, Punjabi Bharwan Aloo and BBQ of assorted fruits. This was followed by a sumptuous main course comprising of Biriyani, breads, curries and then dessert. Rest assured that the lunch was long, and extremely filling!
The Prices
---
Not everything good comes at a steep price. Atmosfire brings these amazing party options, at extremely reasonable price of Rs.350 ++ for vegetarian selections and Rs.450++ for non-vegetarian selections.
For more information, visit:
http://www.getatmosfire.com/index.php/home/who_we_are
Or call:
Toll Free: 1800-1211-555
Please follow and like us:
Comments
comments