Barbeque is a fun, social activity where a bunch of people can get together, head outdoors, grab some beers, hang out in a relaxed setting and do their entire meal! Now if you're a novice at barbequing, this isn't a piece of cake by any means. From getting the charcoals lit, to deciding whether direct or indirect methods of barbeque to do, to firing up the grill and keeping it lit throughout your cooking, the challenges are plenty! Weber has various smart accessories to help with these, like their chimney starter, briquettes and lighter blocks etc. Now the cooking perspective in a barbeque isn't the same as in a kitchen, you can't put in spices at will to adjust the tastes. To ensure you get things right first time and every time, there are pre marinated barbeque kits from Chefsutra which can be ordered online, and available for a wide variety of cuisines and recipes.
CIY Kits from Chefsutra
A different kind of event for foodies is definitely one where you get them hands on to make the food! Chefsutra and Weber had a fantastic session arranged at the Weber Experience Centre in Ulsoor, armed with the Chefsutra Cook It Yourself kits of the yummiest food; we were all set to hear from the in house Chef Melvin on various barbeque tactics and pointers. There was grilling Awadhi food, desserts, pizzas, and tasting of these that kept a bunch of us busy that afternoon. Chef Kumud help set all of it up for the HOMP, and I am so glad I made it to this event! The CIY range has various vegetarian and non vegetarian offerings from various regions. The really unique part is that you can actually send a recipe to Chefsutra, and they can create these CIY pre marinated kits for the recipe and get a share of profits! And of course, for people like me who are slightly less hands on with cooking, there are these Chef vetted kits available for home delivery twice a day! So be it pizza, lamb chops, murg tikka, or innovative recipes like anari murg or even classic tossed vegetables, you really are sorted.
My favorites from that afternoon were:
Assorted Vegetarian Pizza – A wheat dough base, topped with veggies and cheese. Super easy to cook, slid onto the grill with charcoals in circular line up.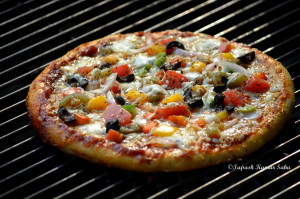 Cooking time: 7 minutes with lid closed. The crusts turned brown and cheese on top melted.
Murg Anari Tikka – One of Chef Kumud's creations, this is chicken stuffed with pomegranate seeds, giving it a sweet and tangy flavor on the inside.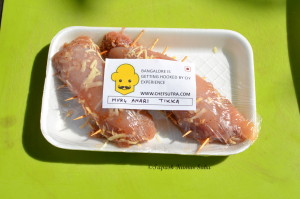 Cooking time: 10 minutes with lid closed. The chicken becomes yellowish brown in colour.
Lamb chops – A brilliant mix of spices, made with tender lamb, the meat almost melts in your mouth along with the masala!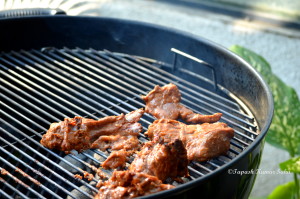 Cooking time: 15 minutes with lid closed. The meat becomes creamy and succulent.
Some more moments from the Live BBQ Session
---
Weber: http://www.weberindia.com/
Chefsutra: http://www.chefsutra.com
"Chefsutra also has CIY kits for other cuisines like Italian, Indian, Mexican etc to make your cooking easier for everyday as well as well as special occasions. Chefsutra will also provide chefs for your parties to setup the gourmet table for your guests." – Rachita Arora, CEO and Founder, Chefsutra

Please follow and like us:
Comments
comments