Taj Bangalore is the newest addition to the Taj Group's luxury portfolio and the sixth Taj hotel in Bangalore, located opposite the Kempegowda International Airport. A few of us were invited to an exclusive bloggers' table with Executive Chef Alok Anand. Chef Alok has over 22 successful years of experience, and has worked across the various Taj locations. It was a Saturday afternoon, and we made our way across the city to this glorious hotel. This property is literally steps away from the airport, a large luxury hotel with a contemporary design, modern yet opulent.
Tamarind is one of the in house restaurants, serving fine North Indian food, open for dinner. The hotel also houses an Asian restaurant and an all-day dining café. We attended the bloggers' table for lunch, and that worked out best for everyone since the restaurant was just hosting us! Tamarind has an exquisitely curated menu showcasing flavors of Punjab, Awadh and Rajasthan – and we had a set menu featuring some of the signature dishes for tasting. Our lunch started with amuse bouche – Dahi Kalash – beautifully presented on a bed of fried vermicelli in a tiny wooden box, quite a nice beginning. We had a basket of bread and namkeens to munch on while our salads were getting prepared. The interestingly adapted Bakli Salad was a twist on the traditional North Indian dish – boiled wheat with chutneys, fresh herbs and tamarind dressing. There were streaks of jeera, jaggery around the plate, that when mixed, led to quite varied flavors.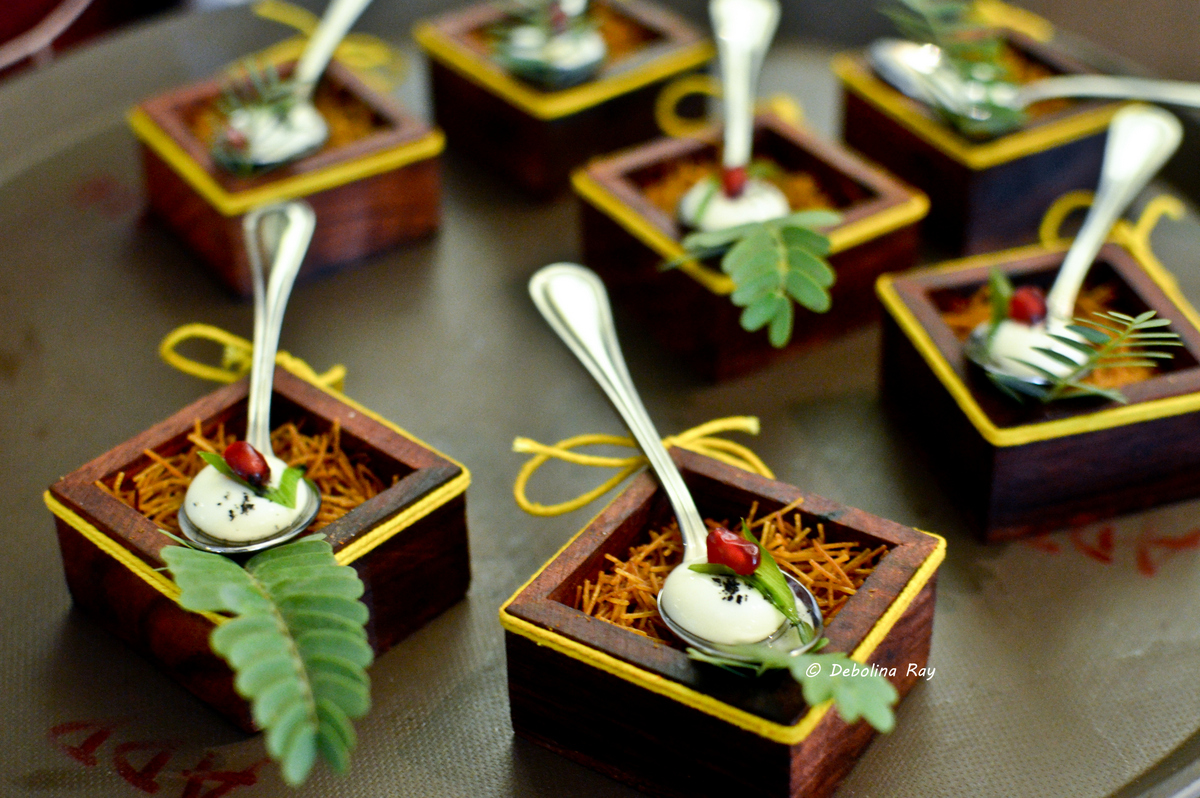 The soups came next, in tiny portions. That's how it is usually served here as well, to not overwhelm the diner with the appetizers. The vegetarian soup of the day was the Chane ka Ark, which was a refreshing herby and spicy soup made with extract of black chickpeas. The Gosht Pudina Yakhni was lamb stock and spices, light and delicious! The tandoors were up next – paneer and mushrooms. The cottage cheese had spicy fillings, and was nice, but the Guchhi Malai Bahar topped this round – the morels stuffed with fresh cream and herbs were lovely and flavorful. Then there was the delectable Sheermal Tart Mein Galaouti cooked in the griddle – one of my all-time favorite dishes – made to perfection. The medallion sized minced lamb literally were mouth melts on sheermal shaped as tarts. What came next, topped this too – if that's possible! Yes, it was another delectable preparation – the Kakori Kebab – the rich meat blended with subtle spices and grilled led to this glorious dish. A Kakori is so delicate that it would crumble down if not held right, and these were served carefully by the efficient staff. And they tasted just fabulous, this meal was already a winner for me.
The mains were a sort of flurry of dishes – ranging from various vegetarian preparations like Hara Moong Kofta Curry, Qasar-e-Pukhtan (paneer in a squash and nut gravy), Laal Motth Ki Dal – very different and intricate dishes, prepared with ingredients so distinct that flavors were heightened very well. The variety of breads served had all kinds of toppings and textures, from different parts of North India. The Saunfiyani Khameeri Roti went very well with the Kukkad Methi Saag. The Khumbi Pulao was lovely, and paired nicely with the Nalli E Khaas – lamb shanks slow cooked in broth, rich and delicious! Try not to miss the Malai Lassi here, it is quite a large glass, but delicious with clotted cream and saffron, I pretty much filled up on just this! The desserts didn't woo me over as well as the rest of the meal, but to be honest, my perspective of Indian sweets is slightly – biased, shall we say!
Overall, the meal at Tamarind, Taj Bangalore was a sumptuous one, lavish and luxuriant. Every detail of the place was impeccable, from the plating of each dish, to service, to the muted yet tasteful décor, to the perfectly matched interiors and dinner ware. Instead of rushing out on a trip, it makes perfect sense to come down here, enjoy a meal and then walk across in time for your flight. Being near the airport, the flight schedules are available on screens with exact statuses – ensuring a perfect experience for a traveler. Considering my travels across the world, and airport food and uncomfortable lounges, I think I can speak for all travelers that a place like this is definitely worth indulging in.
Please follow and like us:
Comments
comments