We are always on the lookout for good and concept places in HSR Layout. Kitchen on Table, located near HSR Sector 1 was a place we visited yesterday. The name of the place is literal, they literally cook some of the dishes on the table. The owner Murugan was around, and welcomed us in. There were already a few groups inside, we sat down at a large table with a cook counter, equipped with chimney and the works. The restaurant format is a fixed price unlimited food menu where they have several barbeques, sushis, live cook-station dishes among other things. The interior seems a little dark and with blue lighting initially, and that's with the intent of having the main focus on the cooking stations for a better experience. I do prefer having more light when I eat.
Though I had read other reviews, what we experienced was different and surprising. We got appetizers like soups and starters on the table. The sushi and sashimi platter was quite good, various options with prawns, tuna and salmon in maki, sushi, sashimi, nigiri. The chefs cooking on table is pretty fun with some knife and card tricks and showmanship, as well as live cooking – we had stir fried vegetables, chilly garlic tofu and fried rice, well made and quite entertaining. There were various dishes with mock meat, tasted quite good – very well made. The mock meats were made with Soya and Mushroom and I loved the preparations like Butter Garlic Mock Meat and Drum of Heaven, the sauces and preparations were delicious, perfect for those avoiding meat during Shravan!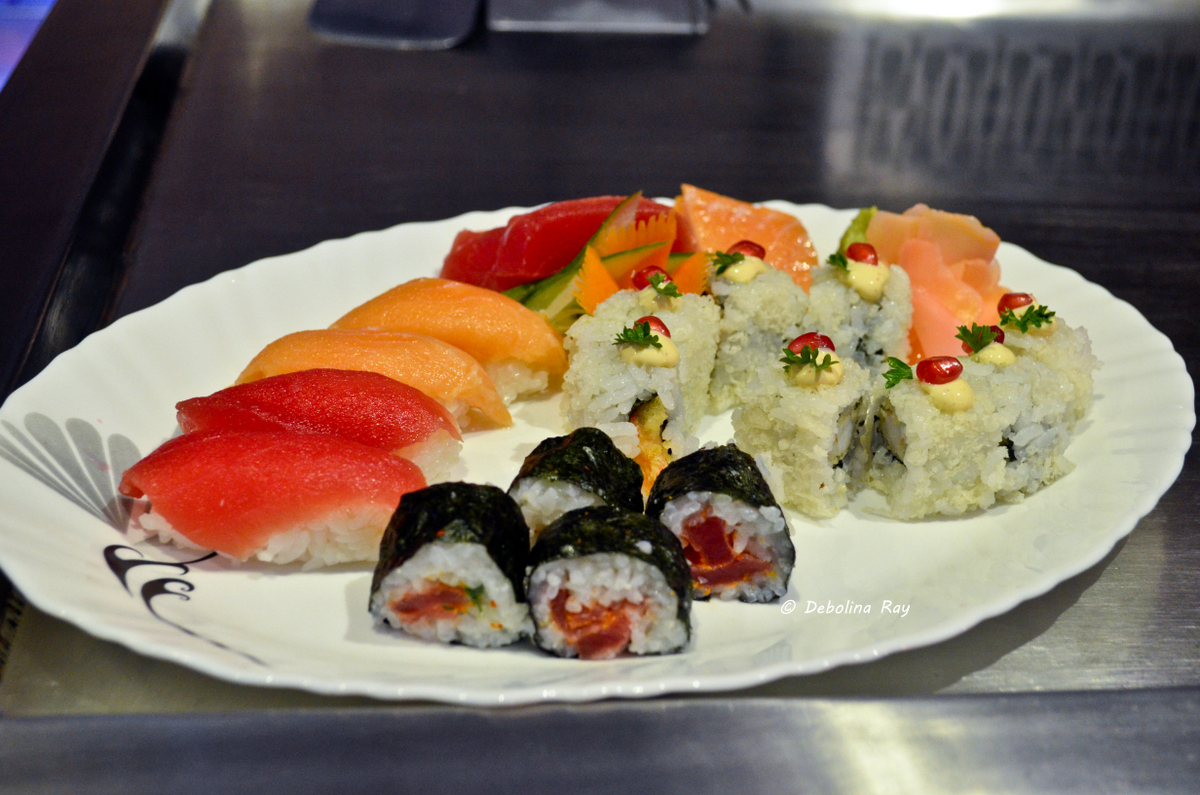 The experience takes about an hour and a half. Priced differently throughout the week and serving unlimited food, this is quite a different take on dining out. Will be back to experience more, best enjoyed in bigger groups. Kitchen on Table is highly recommended for Japanese food lovers, as well as for vegetarians to try the mock meat preparations.
Please follow and like us:
Comments
comments