'A Meal Without Wine Is Like A Day Without Sunshine'.
The word Fratelli (Italian) means brothers. Fratelli Wines is a collaboration of Indian and Italian families getting together to bring the Tuscan quality and taste of wine, grown in Indian climate and terrain. Their winery estate is in the Solapur district near Pune, with the vineyards nearby as well. During an Italian food tasting by Ingel Marcellino, Fratelli Wines had two of their wines made available to this VGulp and Foodie Doodle collaboration. The wines, one red and the other white, were made with Sangiovese, not a common variety to be produced in India.Sangiovese is an Italian blue black grape, which is used to produce red wine. Experts place its origin in Tuscany, and this is one of the most popular grape variants used in Italian wines, one of the famous wine labels being Chianti. While modern wine makers often blend Sangiovese with other grapes like cabernet sauvignon and merlot, Fratelli offers a 100% Sangiovese in these two wines.
Mr.Harish Kumar, a Sommelier and Sales Manager Fratelli Wines, who spent time with us that afternoon, explained the process of making these wines and their intricacies in terms of taste. The red wine typically is poured into a carafe before serving, and left standing for about 20-30 minutes. It is essential to allow the wine to aerate, or 'breathe'. A decanter with a wider mouth and base allows better 'breathing' room for the wine and lets the aromas open up, once it interacts with air.
We began our meal with Caponata and the Pasta alla Norma paired with the Fratelli Sangiovese. The taste was lovely, light bodied with a fine balance of acidic and sweetness. The slightly long aftertaste with a lingering spicy flavor made it a really fine accompaniment. As we went deeper into the courses, we got the Fratelli Sangiovese Bianco with the Carbonara Spaghetti Pasta. The same grapes, now used in variation have aromas of tropical fruits and violets, was sweeter, which I prefer, but in no way diminishing the red.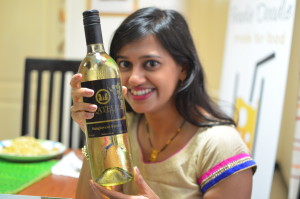 Fratelli Wine is bringing in world class wine into the Indian market, with the help of acclaimed vintner Piero Masi. Their reserve wine 'Sette', a Cabernet Sauvignon – Sangiovese blend won Silver at 2nd Decanter Asia Wine Awards 2013(DAWA).
For more information, visit:
Read a review of Alto Vino, one of the premiere Italian restaurants in Bangalore: http://www.sheknowsgrub.com/restaurant-week-india-alto-vino-bengaluru-marriott-hotel/
Please follow and like us:
Comments
comments