I wrote about City Surf a couple of weeks back. So this one is to follow up with an actual usage of this lifestyle app. User-friendly, quite simple to use, and with a host of deals available on the go – if you haven't read my first post yet, please do so here. So as you've read, City Surf is a Lifestyle Coupon app getting you great deals on the go. The app has a monthly subscription of Rs.100, which open up a host of money saving options; and also has a 7 day trial period.
Last week, I was at the Fete du Vin – a one of its kind wine and cheese tasting event in UB City. And after a daylong of interesting workshops, and sampling wines, a nice Italian dinner was what my feet and mind desired the most. So Toscano, my old time haunt. Toscano is a beautiful outdoor corner restaurant in UB City serving Italian food and wines. There was live music that day, and we sat down in a neat, pretty table, amidst the windy and pleasant terrace. We ordered for the main course directly, Chicken Diavola, I was totally famished. Meanwhile, I got onto the City Surf app to see if there were any deals around. Luckily, Toscano's various outlets of the city are listed on the app, and the UB City venue had offers of beer, wine and desserts. For the dinner, I opted for the Buy 1 Get 1 on desserts – selecting their signature Kahlua Mousse and Chocolate Fudge Cake.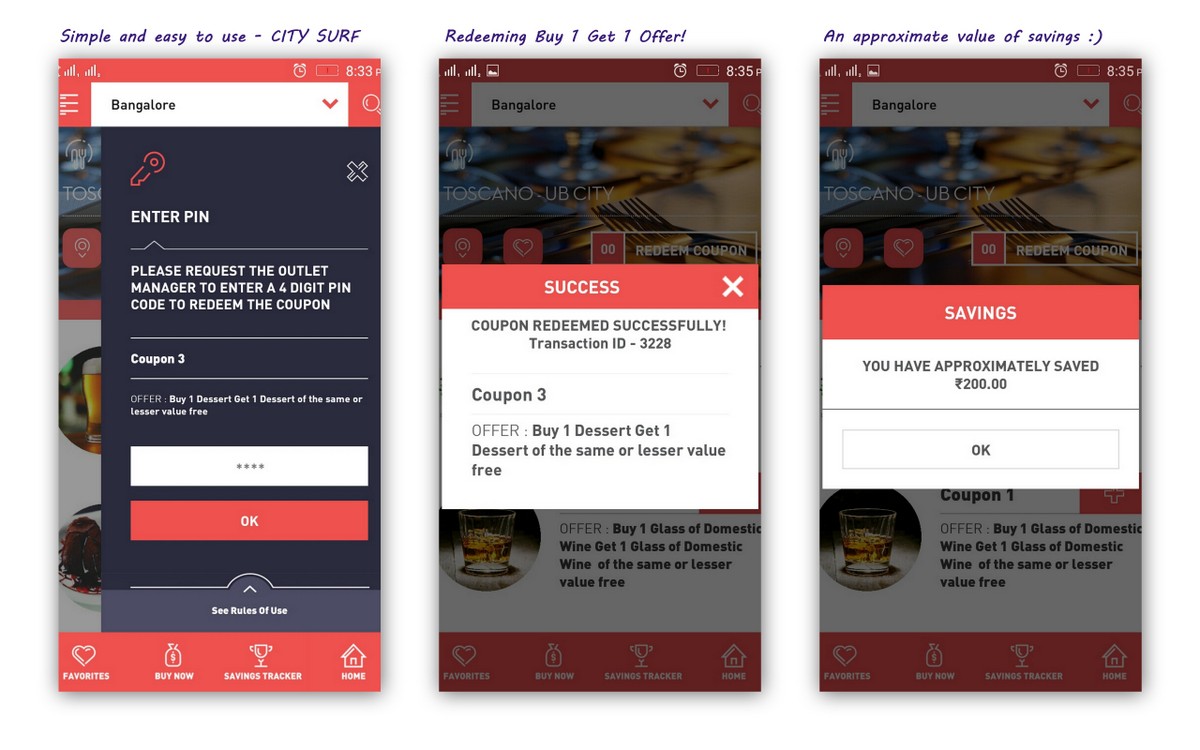 Once selected, and I informed our server about the app and offer. He came and keyed in a code to avail the offer, and we had these yummy and delectable desserts. In the bill presented as well, only one dessert was charged. After availing the offer, the coupon is not available any more, probably gets reactivated the next month. The app was easy to use – search, navigate and availing offers on places – save in a matter of seconds. I highly recommend this app for great deals on the go, no hassles. Download the app from App Store or Play Store.
Please follow and like us:
Comments
comments