Surprisingly this was my first visit to Benjarong. I visited during the Axis Bank Gourmet food fest, and made my way there for dinner. The place is neat and tastefully decorated, and we were greeted with a pleasant aroma of lemon grass as we entered. The format of this fest is also a limited menu, but I was happy to note that some of their best dishes are on this set, I like the idea of putting the best foot forward. There were 2 starters, one soup, 2 mains and a dessert available in 799 plus taxes, and the table had to be reserved in the Axis Bank portal.
We started with their welcome salad served complimentary, the Mian Khun. There was an assortment of condiments and lettuce to munch on while our food selection was getting ready. We opted for Chicken in Pandanus Leaves, Spicy Fish and Chicken Spring Rolls to start off. The Spring Rolls were served with a sweet chilli sauce – very nicely made, and well complemented, while the Pandanus Chicken had tossed and roasted chicken wrapped in pandanus leaf. The fish however took the cake in this course, delicately fried basa keeping the inside as soft as ever. Our Tom Yum soup was a clear soup, sufficiently spicy and tangy – one of the best offerings of the region, especially Thailand.
Between the main course and the soups, we got some salad to cleanse our palate. We opted for the assorted mushroom salad and the classic raw papaya salad, the Som Tam. While the papaya salad is pretty standard, beans, papaya dressed in sweet and spicy sauce, the other salad served with various kinds of mushrooms was quite different, flavored with lemon grass, shallots and chillis. Moving on to the mains, we chose the glass noodles with vegetables and mixed peppers, a nice light dish. There was also the lamb in tender peppercorn sauce, which I found to be alright, because the lamb didn't seem to be well infused with the flavors. We also got the jasmine rice with chicken thai green curry, and this was very well made, flavorful and delicious, definitely my favorite.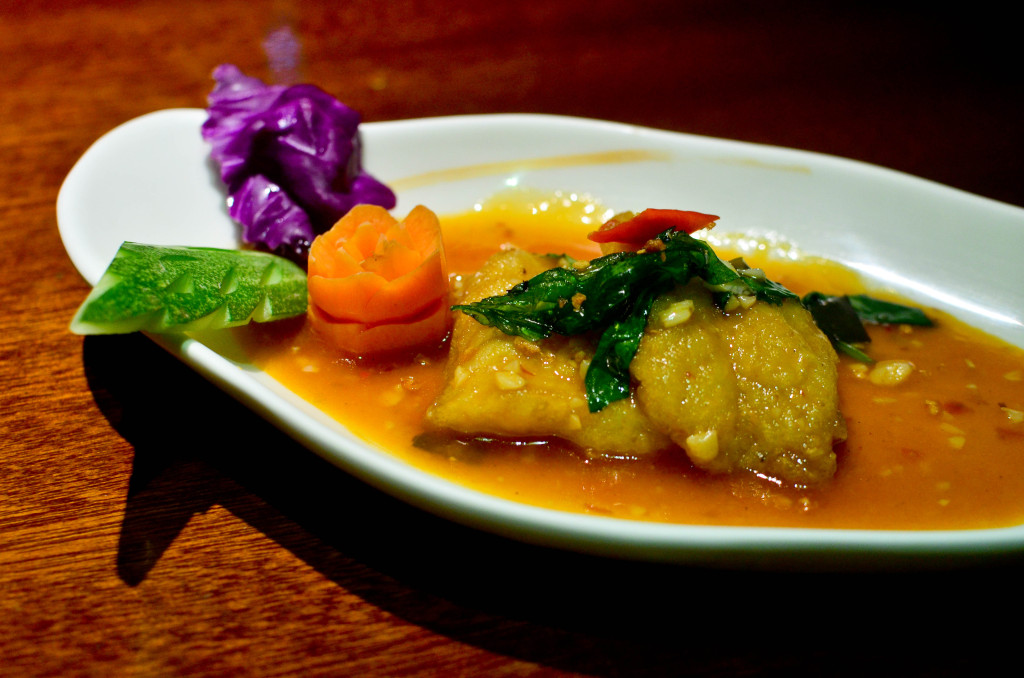 The dessert didn't diminish the interesting gourmet journey at all. Dates Pancake with Vanilla Ice cream was quite a novelty, while the water chestnut in coconut milk, strewed with tender coconut strips was a lovely creation. Both of them were unique and delightful to have. What I loved about the menu, was that it featured some of the best dishes of Benjarong, and that's what makes a food festival truly an experience, aside from being a value for money. Highly recommended.
Please follow and like us:
Comments
comments