The quintessential Indian sweets are important part of our lives. No celebration would be complete without them, no visit to a favorite aunt would happen without a generous gift of these delicious pieces of heaven, and of course our festivals our offerings to the Gods – who doesn't like sweets I say! I remember as a child, I used to often go along with my father to his trusted sweet shop, and buy dozens of sweets for just about any occasion. Or sometimes none at all! But I truly appreciated those visits to 'Sen Mahasay' or 'Gangurams' or sometimes the local 'V.I.P. Sweets' – when I left home to study, and then travel and then life happened! Now when I visit Calcutta, I have to get at least a couple of kilograms of sweets for my stash, and to distribute to the persistent friends!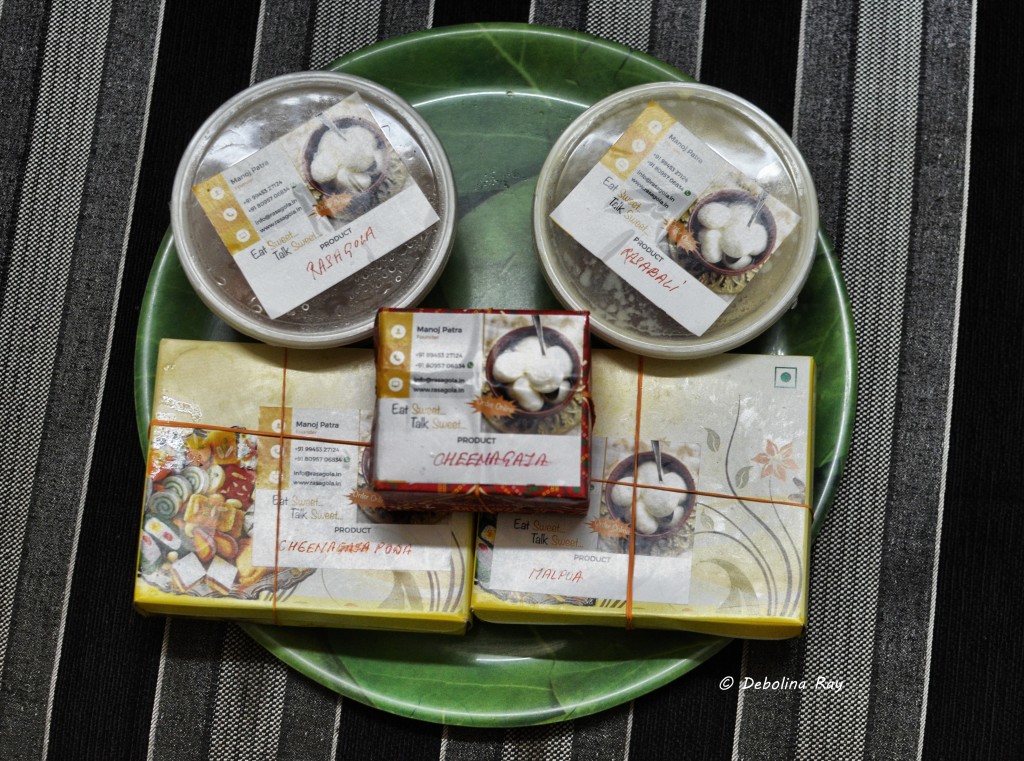 And when Anupam told me about Rasagola.in – I was happily surprised and thrilled. Yes, they deliver almost home-like sweets – rightto your doorstep! Mr.Manoj Patra was kind enough to send me some samples – and they were pretty nice! The Rasagullas were soft, and fluffy – just the right bit of sweet. There were various more types of chhena/chhana or cottage cheese desserts – these are very popular in Odisha. The classic Chenna Poda – is basically a roasted form of the chenna – with a caramelized sugary layer on top. This was entirely aced by these guys! The Chenna Gaja is another kind of preparation of cottage cheese – not really my favorite, but you see it had tough competition. It was a tad dry, but tasted quite good, a lovely snack sweet.
Next up was Rasabali – perhaps a lesser known sweet outside of Odisha, but a tremendously popular one in the state. Part of the main bhog in Jagannath Temple. The Cottage Cheese fare continued, so to say – while you will find similarity in texture, the flavors are quite distinct, and such was the case here as well. And lastly, I tried the Malpua – an unmissable dessert from this part of India, though various other regions make slightly similar sweets as well. A pancake of flour and milk batter, a simple dessert – that can also be served with rabdi. I ended up having this for breakfast in one of the following days – quite nice, missed the rabdi though.
Rasagola.in is a very good option for Bangalore to order in these coveted sweets made quite authentically. They deliver to various parts of Bangalore – for more information, log onto their website: http://rasagola.in/
Please follow and like us:
Comments
comments