Monkey Bar has been one of my go-to hang outs for various moods and celebrations. So it could be a game night or a lazy breakfast, or just one of those evenings you want to relax and play foosball, MoBar always has a vibrant, welcoming energy. While the Richmond Road outlet has been around for a while, the Indiranagar MoBar opened up last year with a larger venue and enviable location. They also opened up outlets in Delhi and Mumbai, and have now introduced a new menu at Indiranagar with a diverse set of offerings, picking out the best and successful dishes, across their other venues.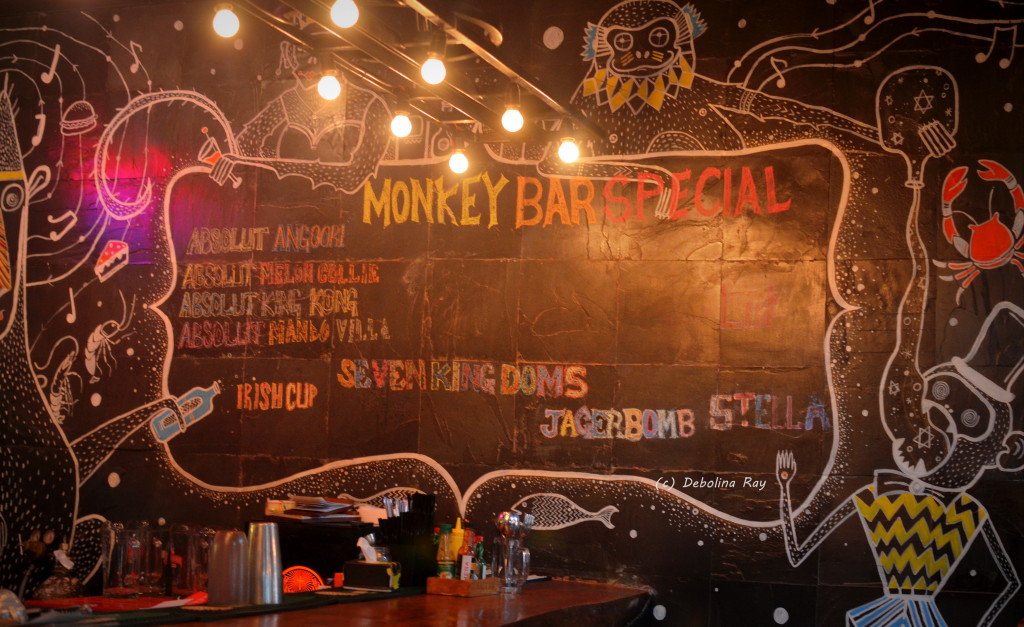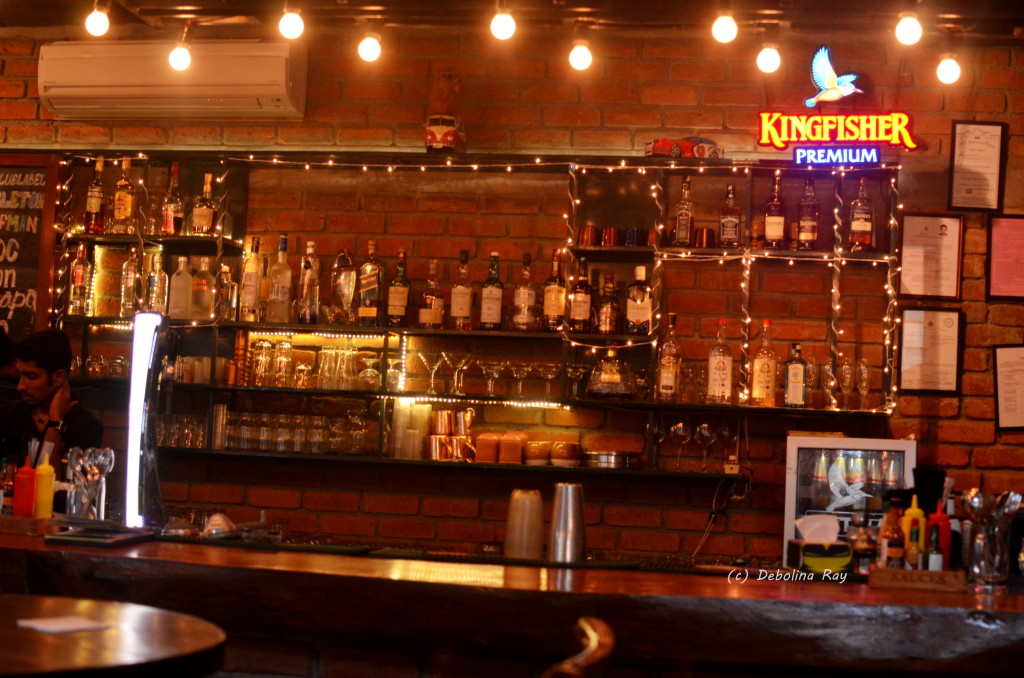 I was invited for a tasting of their newly launched menu, and on Sunday I landed up there for a late lunch. The breakfast shift on Sundays usually run till about 12, so the hum drum took a while to die down. At an off peak hour, MoBar is transformed into this large open space lit by incandescent lamps, a tall wall of quirky framed posters, and most importantly available tables! Their simple and practical menus highlight the new dishes, and as before, there's a LOT of grub to choose from. I started off with the Mochar Chop. This is a classic starter, made of banana flower, with batter fried crunchiness. Most Bengalis have a generations old family recipe of this in their repertoire, I am no exception. Hence my curiosity to see Monkey's take on this. It came with the chops piled on served with sour cream and mustard. The sour cream gave the sublime chops a tangy flavor, while the mustard sauce left a delicious aftertaste. Obviously this isn't a conventional take on the starter, but a very well balanced one.
The next on the list was a plate of Fish Cakes. This was debatably the best dish in my meal. The simplistic name shouldn't dissuade you from trying this. Crumb fried stuffed with soft crab, prawn and fish cake, complemented with the cream and mustard dressing, it practically disappeared as soon as the shutters stopped! Absolutely delectable! The Shrimp N Grits that followed couldn't live up to the bar already set. The fresh prawns, mushroom were delicious, but the synergy with grits didn't work too well for me – maybe more cream, extra whipping would work, but I'll wait to find out.
We then took a break before proceeding, trying out the Wild Leaf and a Cosmo – both great for a hot sunny day. The Laal Maas Phulka and the Naga Pork with Noodles came next. The Phulka were actually their version of Indian tacos, with curried mutton, onions, pickles, sour cream and sauce layered over it. It's an interesting dish to try, I would prefer if the dressings were kept separate for me to mix as desired. The Naga Pork was a perfect creation on the other hand, pork belly on a bed of hot, spicy noodles. The noodles blended in amazingly, the spicy Naga Chilly sauced up the dish just right, and it is a pretty good portion to share as well. They have a vegetarian variant of this with paneer and mushroom as well, and the Chilly isn't too hot.
I didn't have any space to try out all the desserts that I wanted to! But I had to try at least one right, so the choice was simple. We like Old Monk, we like Nutella, we got the Nutella and Old Monk Cake. Cake, Ice Cream, Nutella it was a total party, I would declare it their best dessert, but I want to be fair and try the others. Until then, go have a blast at the Monkey. Their new menu has lots of more stuff to try, and the best part? The old favorites haven't gone anywhere!
Please follow and like us:
Comments
comments